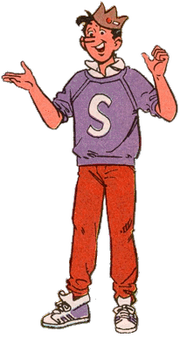 ==
Jughead Jones

Family

Forsythe Jones Jr. (father), Gladys Jones (mother), Jellybean Jones (sister) and Souphead Jones (cousin)

Age:

No information

Gender:

Male

Friends:

Archie, Betty, Veronica, Chuck, Valerie, Reggie,

Enemies:

Veronica, Reggie, Trula

Talents:

Wit, drumming,
==
Forsythe Pendleton Jones III (aka Jughead) is Archie's best friend and a gluttonous teenager. He is known throughout Riverdale for his hatred for girls, but he apparently makes an exception for his friends, like Betty.
Personality
Edit
Jughead is very sarcastic, and usually openly expresses his distaste for something. He loves food, and is incredibly lazy. However, he proves to be quite fast when he needs to be, such as when he is chased by Ethel.
In one of the early Archie newspaper comic strips, he is identified as Forsythe Van Jones II.