Geraldine Grundy is the English and occasionally mathematics teacher at Riverdale High. In the original Archie's Ms. Grundy was a crabby old mean teacher. At the time she was bald and wore a wig always embarrassed when it fell off. Eventually it seems this trait was removed. Grundy's first name is Geraldine however in various comics she has been called different names. Ms. Grundy is currently represented as a much kinder woman and makes her into her students. She was the one who left Moose in faith with himself and pushed Archie along all these years. 
Warning Spoilers Ahead:
Eventually, a new series known as life with Archie came along however this was a saga in which in one volume Archie marries Veronica and the other Betty. In the Archie marries Betty storyline we briefly know Grundy, she admits to Mr. Weatherbee that something is wrong and in response her long time (not so) secret admirer proposes to her. She accepts no doubt and the Archie marries Betty saga continues to follow Ms. Grundy and Mr. Weatherbee. In life with archie #5 Grundy ties the not with Waldo Weatherbee along with Jughead and Midge and Svenson and Ms. Beazly. Eventually Riverdale suffers the ultimate loss, when their beloved Ms. Grundy looses her battle with cancer. Her and Waldo spend 6 weeks together living each day like their last. Miss Grundy's death and demonstrated through a series of her students memories forming a true connection. After her death their is a memorium, each student saying a eulogy leaving Waldo's for his dear Geraldine to be said, "Like a comet, Geraldine Grundy flew into my life lit it up with a glow and was gone. Goodbye Miss. Grundy, bless you I will love you forever."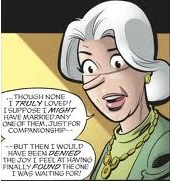 In one Little Archie story, it stated her first name was Grisensnable.